Date

29 March

Time

2.30pm

Location

The Conservatoire

Admission

Adults £10
Children £5
Under 2s Free

Book Now
Jazz you like it - BOSSA NOVA!

This concert is the first in the new educational Jazz series of the Conservatoire, for everybody between 2 and 100 to enjoy.
Bossa Nova is a music style which originated in Brazil in the 1960s. It soon developed into a world-wide craze, and survives to this day as a soothing acoustic backdrop in coffee shops all over the planet. Sung in Portuguese, and influenced by Samba as well as by Jazz, Bossa Nova is characteristically elegant, with rich harmonies, long-winding melodies and a very laid back feel. In an entertaining afternoon concert for the whole family, Brazilian singer Luna Cohen and three outstanding musicians play the most beautiful songs of Bossa Nova and give you an idea how the Bossa Nova is made.
And here's a little bit about the musicians who will be joining us....
Luna Cohen - Vocals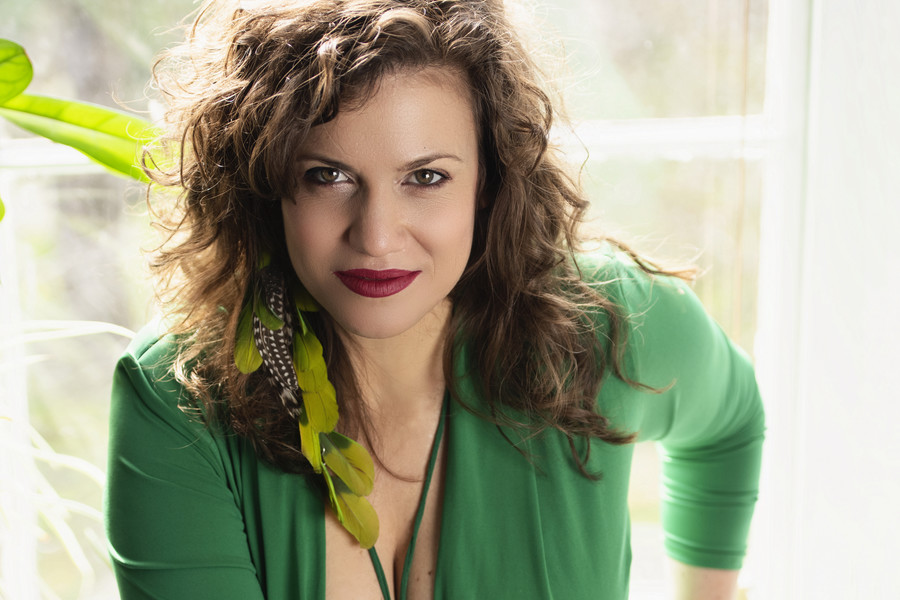 Luna instantly captures audiences with her sultry vocals and charismatic stage presence. Each song she sings tells a personal story, leaving the listener with a glimpse into her enchanting world.
Her smooth but powerful vocals have been heard in a variety of high profile venues both in London and Barcelona, and at a number of major international festivals.
Luna Cohen has recorded an impressive 4 albums under her name for the well-respected Catalan label Temps Records. She settled in Barcelona in the early 2000's and went on to establish herself as a Brazilian singer of considerable note within the Spanish musical community. Looking to broaden her artistic horizons she relocated to London in 2014 and has since found herself in high demand.

Klaus Bru - C-Melody Sax, C-Soprano Sax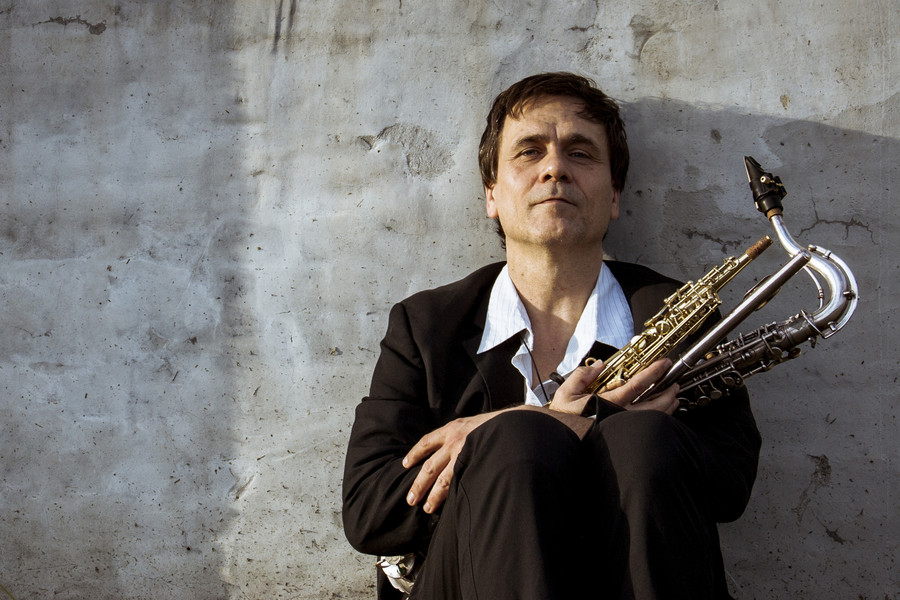 German-born Klaus Bru is one of only a few saxophonists to play the rare C-Saxophones, which had their heyday in the 1920s. With a musical output spanning Free Improvisation, Eclectic Noise, diverse Jazz styles and a wide array of World Music, Bru makes a point of playing contemporary music on instruments that are deemed utterly old-fashioned.
Klaus Bru has lived in Munich, Graz, Vienna, Berlin, Taipei, Beijing, and since 2014 lives in London. The list of his international collaborators is like a long winding river, here are just a few: New York guitar legend Marc Ribot, Free Jazz drummer Sunny Murray, drum wizard Jojo Mayer, Chinese Noise guitarist Jianhong Li, Taiwanese piano virtuoso Shih-Yang Lee, Li-Chin Li (the "sheng girl"). More recently in London, Klaus Bru has performed with singer Cleveland Watkiss, vibraphonist Orphy Robinson, free jazz legend Terry Day, percussionist Beibei Wang, violinist Mandhira de Saram (of the Ligeti Quartet), and master improviser Steve Beresford.

James Kitchman - Acoustic Guitar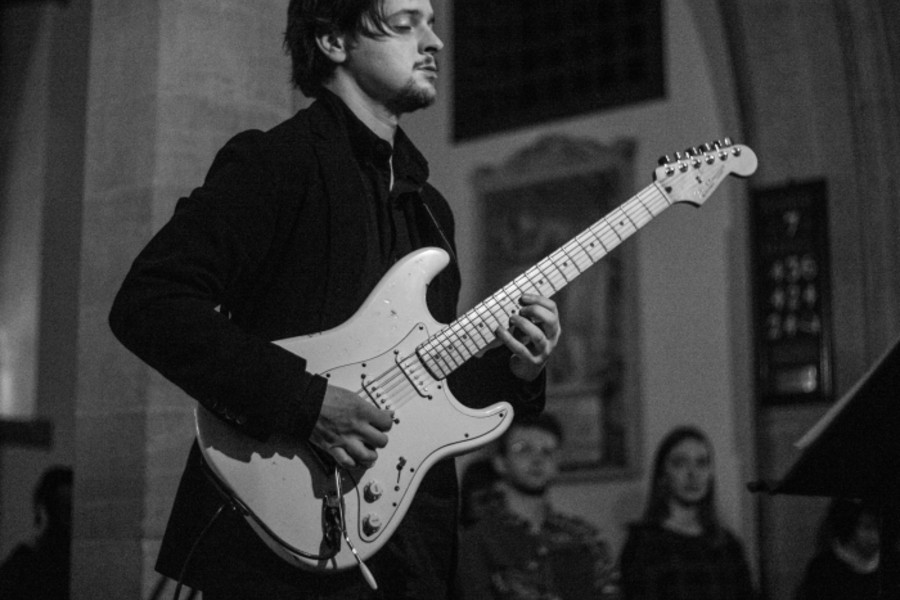 London-based guitarist James Kitchman hails from the forsaken realm of Northumberland. A graduate of Trinity Laban Conservatoire of Music & Dance, he has since become one of the most sought-after jazz guitarists of his generation. Projects have encompassed a broad array of musical styles and disciplines; he co-led the Southern Cone Quintet's take on Argentinian, Chilean and Uruguayan folk music; was a part of the Orpheus Sinfonia in Grammy-nominated composer Tarik O'Regan's latest opera; and plays alongside Corrie Dick in Jonathan Chung's contemporary jazz trio Glasshopper. Kitchman frequently appears at London's most prestigious jazz clubs in collaboration with UK and international artists, including a residency at Kansas Smitty's with acclaimed pianist Bruno Heinen. His latest project with German vocalist Sylvia Schmidt explores the Anglo/American folk songs of the Appalachian mountains, distilled through the lens of a European jazz aesthetic. Recognised for carrying his distinctive voice across all his work, Kitchman is in continual pursuit of artistic development.

Wagner Santos - Brazilian Percussion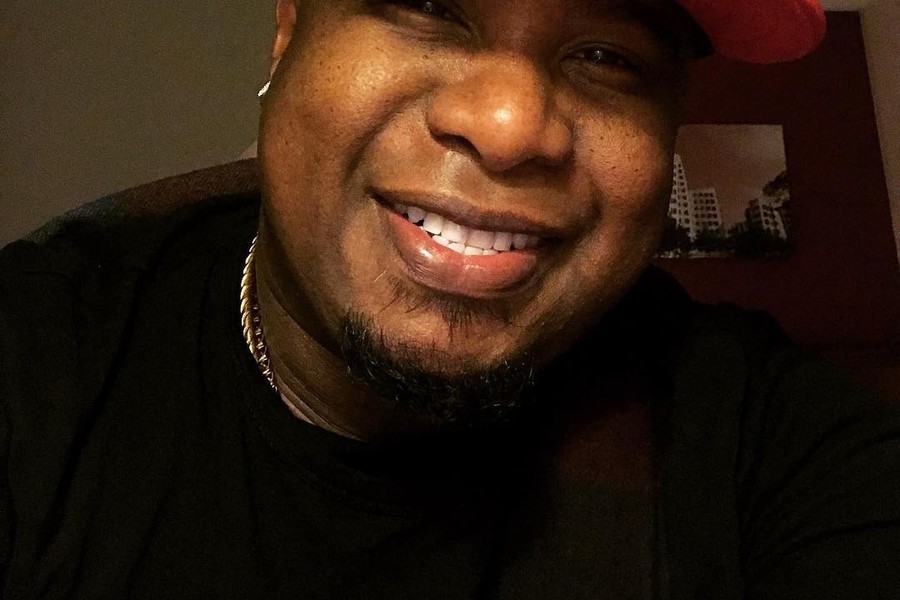 Wagner Santos is a Brazilian percussionist based in London and California. Specialising in Samba Reggae/Afro and Bahia drum fusion, Wagner teaches workshops and tours internationally. As a session musician, Wagner Santos performed on the Oscar nominated soundtrack to the film Rio with Sergio Mendes and Carlinhos Brown. Wagner also shared the stage with well-known American and Latin musicians Michael Franti, Silento, Criolo, Luciana Mello, Fabiana Cozza, Margareth Menezes, Gilberto Gil, Sandra de Sá, Mariene Santiago, Timbalada, and Olodum. Wagner studied percussion at the Ile Aiye Cultural Association and teaches Salvador Bahia percussion ensemble techniques at group master classes. Wagner Santos is an artist musician at California Brazil Camp, International Samba Congress Europe, International Samba Congress Los Angeles, Afro-Latin Dance Days in Düsseldorf, and Bambas Festival in London.
Back to all Events