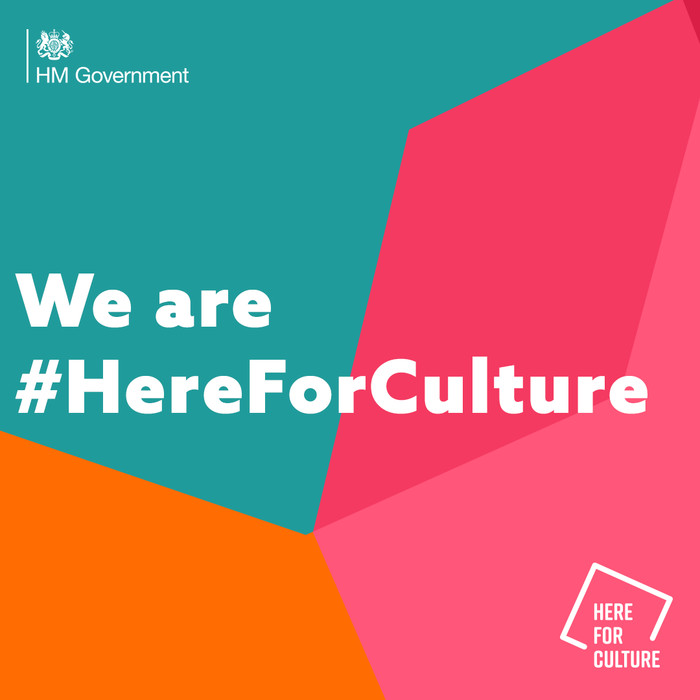 We are delighted and relieved to announce that after a successful first round bid, the Conservatoire is to receive a subsequent £99,000 from the second round of the Government's Culture Recovery Fund.
The Conservatoire is among more than 2,700 recipients to benefit from the latest round of awards from the £1.57 billion Culture Recovery Fund.
The forced closures required during the pandemic have presented huge challenges for the Conservatoire as an organisation. These have been negated as much as possible through minimising costs and taking classes and tuition online. Despite this, in common with other arts organisations, we recognise that although this provision has been greeted with appreciation and praise, it is not suitable for all elements of our offering. This award will allow us to maintain a viable and sustainable business model, contributing to replacing the losses resulting from the closures and extra costs incurred in order to re-open and remain Covid-secure. Vitally, it will allow us, a small and vibrant grass-roots charity, formed by the local community itself, with a reach and scope beyond our size, to continue to serve our users as we enter our 140th-year.
Kay Sandford-Beal, Executive Director of the Conservatoire, said:
"We are incredibly grateful to the Arts Council and DCMS for providing this vital lifeline to charities like the Conservatoire, reflecting their recognition of our key role in providing high quality learning to all. This grant will enable us to survive the pandemic and flourish in the future.
We would like to pay tribute to our wonderful tutors and staff who have adapted to the challenges we all face with flexibility and grace.
We are also hugely grateful to all those in our local community who have stepped forward with donations, online course bookings and continued support throughout this challenging time, especially as we recognise they have been dealing with their own difficulties arising from the pandemic."
Culture Secretary, Oliver Dowden, said:
"Our record-breaking Culture Recovery Fund has already helped thousands of culture and heritage organisations across the country survive the biggest crisis they've ever faced.
Now we're staying by their side as they prepare to welcome the public back through their doors - helping our cultural gems plan for reopening and thrive in the better times ahead."
Sir Nicholas Serota, Chair, Arts Council England, said:
"Investing in a thriving cultural sector at the heart of communities is a vital part of helping the whole country to recover from the pandemic. These grants will help to re-open theatres, concert halls, and museums and will give artists and companies the opportunity to begin making new work.
We are grateful to the Government for this support and for recognising the paramount importance of culture to our sense of belonging and identity as individuals and as a society."
The funding awarded today is from a £400 million pot which was held back last year to ensure the Culture Recovery Fund could continue to help organisations in need as the public health picture changed. The funding has been awarded by Arts Council England, as well as Historic England and National Lottery Heritage Fund and the British Film Institute.
Further Background:
The Blackheath Conservatoire sits on the edge of Greenwich and Lewisham in South East London; boroughs with some of the worst social deprivation in England. We are a 140-year-old arts education charity set up to provide life enhancing opportunities for people of all ages and abilities to develop their creative skills and realise their potential. Our Grade II listed Victorian Music and Art Buildings are part of London's oldest purpose-built arts centre. We are a vibrant, community focused creative hub. We offer education in music, art and drama, and our high standards are focused on both the quality of attainment of our students and the creative experience enjoyed. We teach nearly 2000 students aged from 6 months to over 100 years, most of whom live in the two boroughs. We are an ABRSM exam centre and our quality tuition and preparation results in recent 100% pass rates with over 50% at merit or distinction. Our educators are professional musicians, artists and actors.
Our educators and professional musicians have created projects to bring cultural capital and ambition to underserved local communities. A £40k grant from the Andrew Lloyd Webber Foundation, together with individual donations, has enabled approximately 50 bursaries to local underserved young people for music, art and drama lessons and numerous projects engaging hundreds of children, and local teachers, enhancing local creative opportunity. Our bursary scheme is in high demand and sources of free high-quality arts education in our community are dwindling. Our outreach student participants have been 65% BAME, 70% on Pupil Premium and 40% with English as an additional language. We are looking at alternative ways to increase funds from new sources to enable us to grow this scheme, diversifying our reach and audience even further.
We work collaboratively. We have worked extensively on outreach with Greenwich and Lewisham Music Hubs and local state schools, delivering holiday arts activity for teenagers at risk of offending, in partnership with Talk About Art, and with Greenwich Community School Partnership to create a programme of learner support and teacher training in creative learning. We have partnered with dementia charity Age Exchange to bring song-writing to those in care homes, and with local refugee charity GRACE to provide music therapy for refugees; and with LEYF on a collaborative pedagogy project to embed our early years music expertise into the curriculum of LEYF's nurseries, reaching London's most challenged communities.
We are a creative leader in our main education offers. Our innovative Early Years Programme is backed by strong academic research on early child development and the acquisition of music and speech; our unique Roundabout and Play! programmes introduce 5-6 year olds to 6 instruments over a year and then take them forward in small groups with their chosen instrument. Our SEN access course, developed with local clinical psychologists, provides a gateway for SEN children to access art and music with appropriately designed teaching methods. Find out more at www.conservatoire.org.uk
Arts Council England is the national development agency for creativity and culture. They have set out their strategic vision in Let's Create that by 2030 they want England to be a country in which the creativity of each of us is valued and given the chance to flourish and where everyone of us has access to a remarkable range of high quality cultural experiences. They invest public money from Government and The National Lottery to help support the sector and to deliver this vision. www.artscouncil.org.uk
Following the Covid-19 crisis, the Arts Council developed a £160 million Emergency Response Package, with nearly 90% coming from the National Lottery, for organisations and individuals needing support. They are also one of the bodies administering the Government's Culture Recovery Fund. Find out more at www.artscouncil.org.uk/covid19.
At the Budget, the Chancellor announced the £1.57 billion Culture Recovery Fund would be boosted with a further £300 million investment. Details of this third round of funding will be announced soon.
Back to all News