The Conservatoire Open Day 2020
The Conservatoire Open Day 2020
Sunday 15 March 2020
Come along and try our courses for free! Places on these taster sessions are free of charge but there are a limited number of places and must be booked in advance. These classes are in 30-minute slots, so will be shorter and possibly busier than usual - but hopefully will give you a general idea of what to expect from our classes!
It is vitally important to us that we have good photographs and video content to tell more people about what we do. We will be filming on the day. If you do not want to be filmed you will have the option to tell us when booking.
Parents/ carers need to attend our early years sessions and on the day we will welcome parents into our sessions for children and young people to enable them to find out more. There is no need to book a ticket for yourself - simply come in with your children.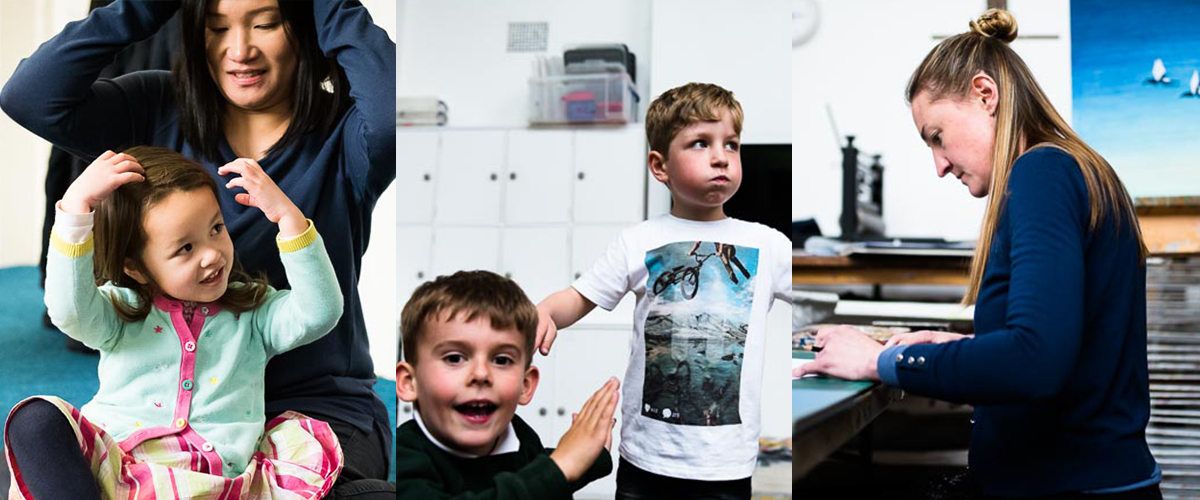 Click the links below to book a place for the course of your choice!
Early Years (0 - 6 yrs)
We offer fantastic courses in music, art and drama, which progress and develop with your child. All teach a range of vitally important skills, whilst being great fun.
12.00 - 12.30 Storytelling (3-4 yrs)
Creating characters, travelling to new worlds, the only limit is our imagination.
13.00 - 13.30 Tiny Tots (6-18 months)
Laying foundations for music through play and exploring different sound sources.
13.30 - 14.00 Little Art Venture Club (0-2 yrs)
Exploring different materials, textures and art forms in an engaging and stimulating environment.
13.45 - 14.15 Toddler Tunes (18-36 months)
Introducing musical concepts with the help of puppets, enhancing imagination and fine motor skills.
14.15 - 14.45 Little Art Venture Club (2-4 yrs)
Exploring different materials, textures and art forms in an engaging and stimulating environment. Make some fabulous art and keep the mess here!
14.30 - 15.00 Little Maestros (3-4 yrs)
Children learn to copy and recognise rhythms, improvise their own musical patterns and create their first compositions.
15.00 - 15.30 Little Art Venture Club (4-6 yrs)
The next stage in young children's art education, learning new skills each week.
15.15 - 15.45 Highly Strung! Ukulele Group (3-5 yrs)
Learn basic techniques on this perfect introductory instrument in an engaging and fun way.
15.15 - 15.45 Storytelling (18-36 months)
Introducing drama using a holistic, creative approach to tell a story each week.
16.00 - 16.30 Family Music (0-5 yrs)
A course designed to enable different ages to work together and be inspired by music-making.
Children & Young People (5-18 yrs)
Let our fabulous professional musician tutors introduce you to a range of instruments and sample of cross-section of inspiring art classes.
09.00 - 10.00 Saturday Sinfonia (7-15 yrs, Grade 1+)
A course for young musicians to play a varied repertoire and grow their confidence in a group.
10.30 - 11.00 Roundabout (5-7 yrs)
11.15 - 11.45 Roundabout (5-7 yrs)
Our most popular course ever - children spend half a term each on 6 instruments over a year. Meet our tutors, and be introduced to the instruments.
Instrumental Introductions
Play! is a year long course in which students focus on their favourite instruments and learn in small groups the foundations of their instrument and musical techniques and skills. You might also be interested in individual tuition. Come along and try these instruments.
12.00 - 12.30 Piano (6-9 yrs)
12.00 - 12.30 Flute (6-9 yrs)
12.45 - 13.15 Drums (6-9 yrs)
13.15 - 13.45 Guitar (6-9 yrs)
13.30 - 14.00 Cello! (6-9 yrs)
13.45 - 14.15 Brass (6-9 yrs)
14.15 - 14.45 Cello (6-9 yrs)
15.30 - 16.00 Violin (6-9 yrs)
16.15 - 16.45 Violin (6-9 yrs)
13.00 - 13.30 Junior Choir (6-8 yrs)
Junior Choir sing in unison and in harmony, with no sheet music reading required - developing singing and musicianship skills and making new friends.
13.45 - 14.15 Training Choir (9-14 yrs)
Training Choir learn a wide range of traditional, popular and classical music.
14.45 - 15.15 Mixed Media (9-14 yrs)
Under expert and friendly guidance, students will create a unique body of art that expresses their talent and artistic identity.
15.00 - 15.30 Young Voices (14-18 yrs)
Sing a wide repertoire including pop, gospel, world music and classical.
16.00 - 16.30 Young Persons' Atelier (15-18 yrs)
This course will look at techniques in painting, drawing and sculpture to enable students to build on existing skills, and introducing them to new ones.
16.30 - 17.00 Clothed Life Drawing (14-18 yrs)
A wonderful opportunity to explore drawing in a variety of mediums from the live model with tuition and guidance tailored to suit each individual according to their needs. We will work with a dancer model to create dynamic and intriguing poses.
Adults (18+)
Visit our beautiful Victorian art studio, meet our tutors and try some introductions to a selection of our varied art classes. Also, why not try your hand at drama or even the fun instrument the ukulele?
13.00 - 13.30 Painting & Drawing Materials & Techniques / Illustration Fast Draw
Exploring a variety of techniques and materials, and stretching your imagination and skills in a series of quick draw exercises.
13.45 - 14.15 Using Colour / Illustrating Portraits In Colour
Exploring all aspects of using colour through different drawing and painting media, and this term's last Illustration short course for making pictures of people!
15.00 - 15.30 Authentic Accents
Learn how to acquire and analyse a range of regional and international accents of English.
15.30 - 16.00 Print Making / How To Draw
An introduction to lino, mono and collograph printmaking techniques, and a course to give you the confidence to work at home and develop your own style.
15.45 - 16.15 English Speaking
Accent softening and modification for non-native speakers.
16.00 - 16.45 Adult Ukulele
Learn basic chord progressions and different rhythms using a variety of great popular songs.
17.15 - 17.45 Life Drawing
Develop your confidence and practical skills in drawing the figure from observation, ideal both for beginners or if you have experience in drawing.