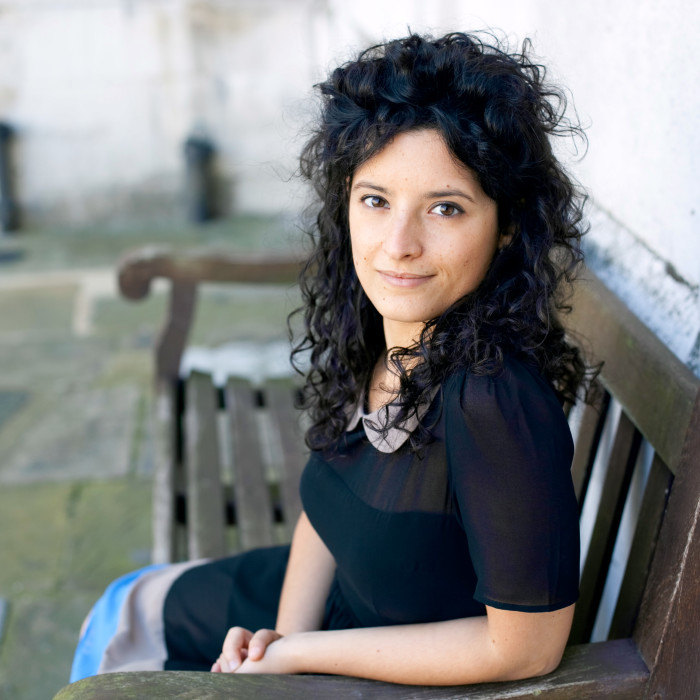 Born​ ​in​ ​Florence,​ ​Italy,​ ​and​ ​currently​ ​based​ ​in​ ​London,​ ​Giulia​ ​is​ ​an​ ​active​ ​musician,​ ​performing​ ​on​ ​a regular​ ​basis​ ​both​ ​as​ ​a​ ​soloist​ ​and​ ​in​ ​chamber​ ​ensembles​ ​throughout​ ​Europe.
She​ ​considers​ ​chamber​ ​music​ ​one​ ​of​ ​her​ ​main​ ​artistic​ ​focuses​ ​and​ ​she​ ​collaborated​ ​with​ ​many wonderful​ ​musicians,​ ​performing​ ​in​ ​different​ ​ensemble​ ​groups.​ ​Very​ ​open​ ​to​ ​20th​ ​Century​ ​and contemporary​ ​music,​ ​in​ ​2012​ ​Giulia​ ​was​ ​part​ ​of​ ​the​ ​Ensemble​ ​NuovaMusica,​ ​with​ ​whom​ ​she​ ​gave première​ ​performances​ ​of​ ​works​ ​by​ ​living​ ​Italian​ ​composers​ ​under​ ​the​ ​baton​ ​of​ ​Mauro​ ​Bonifacio.​ ​She was​ ​also​ ​among​ ​the​ ​founders​ ​of​ ​the​ ​CrossContemporary​ ​Project,​ ​a​ ​dynamic​ ​ensemble​ ​formed​ ​by classically​ ​trained​ ​musicians​ ​and​ ​dancers,​ ​which​ ​aims​ ​to​ ​give​ ​voice​ ​to​ ​the​ ​composers​ ​of​ ​our​ ​time.
She​ ​performed​ ​in​ ​many​ ​important​ ​venues​ ​and​ ​festivals​ ​including​ ​"Festival​ ​Intersezioni",​ ​"Sir​ ​James Galway​ ​Flute​ ​Festival",​ ​St​ ​James​ ​Piccadilly,​ ​Soho​ ​Theatre​ ​for​ ​TEDxWhitehall.​ ​As​ ​a​ ​soloist​ ​with orchestra,​ ​she​ ​performed​ ​Ravel's​ ​Piano​ ​Concerto​ ​in​ ​G,​ ​accompanied​ ​by​ ​the​ ​L.​ ​Cherubini Conservatoire's​ ​orchestra​ ​under​ ​the​ ​baton​ ​of​ ​P.​ ​P.​ ​Ciardi​ ​and​ ​Beethoven​ ​Concerto​ ​n.​ ​2​ ​with​ ​the Siegfried​ ​Camerata​ ​conducted​ ​by​ ​Manuel​ ​Arellano​ ​Bover.
She​ ​has​ ​participated​ ​in​ ​master​ ​classes​ ​and​ ​worked​ ​with​ ​renowned​ ​musicians​ ​such​ ​as​ ​Claudio Martinez-Mehner,​ ​Martino​ ​Tirimo,​ ​Pascal​ ​Rogè,​ ​David​ ​Kenedy,​ ​Gabriele​ ​Baldocci,​ ​among​ ​others.
Giulia​ ​holds​ ​a​ ​Master's​ ​Degree​ ​and​ ​an​ ​Artist​ ​Diploma​ ​from​ ​Trinity​ ​Laban​ ​Conservatoire​ ​of​ ​Music​ ​and Dance,​ ​where​ ​she​ ​studied​ ​under​ ​the​ ​tutelage​ ​of​ ​Sergio​ ​De​ ​Simone,​ ​with​ ​the​ ​kind​ ​support​ ​of​ ​Trinity Laban​ ​Scholarship​ ​Fund.​ ​Previously​ ​she​ ​undertook​ ​musical​ ​training​ ​at​ ​the​ ​Luigi​ ​Cherubini Conservatoire​ ​of​ ​Florence,​ ​where​ ​she​ ​graduated​ ​in​ ​2012​ ​under​ ​the​ ​guidance​ ​of​ ​Giovanni​ ​Carmassi.
Giulia​ ​is​ ​also​ ​a​ ​very​ ​passionate​ ​teacher.​ ​She​ ​considers​ ​music​ ​education​ ​to​ ​be​ ​a​ ​very​ ​important​ ​part​ ​in the​ ​life​ ​of​ ​everyone,​ ​not​ ​necessarily​ ​with​ ​the​ ​aim​ ​of​ ​just​ ​becoming​ ​a​ ​professional​ ​musician,​ ​but​ ​for​ ​the enrichment​ ​and​ ​impact​ ​music​ ​has​ ​on​ ​brain​ ​development​ ​and​ ​general​ ​culture.
Back to all Tutors