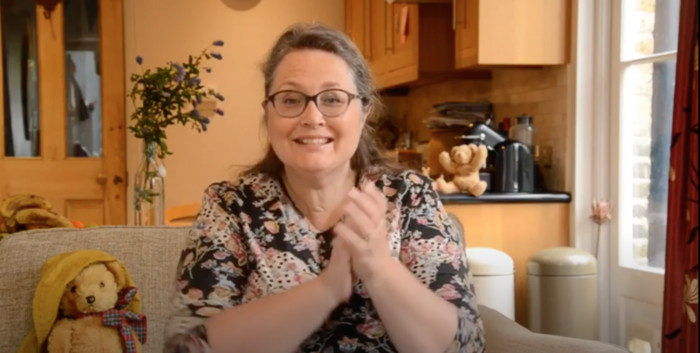 Early Years Team Lead Hilary Dolamore wrote this blog for us a few months ago. Please do read on to find out what is so special about our music programme, which starts with Tiny Tots from 6 months.
Hilary says:
I was recently appointed as the Team Lead for Early Years Music and my first term has been a rollercoaster ride; Covid-19 has changed the course of my first 100 days but perhaps I should go back in time a little!
Music, and in particular, singing, has always been a part of my life. My parents loved music. My mother leaned towards classical and my father to the ballads of his youth and although neither had any musical training they were both keen amateur singers. My dad had a particularly fine baritone. My earliest musical memories are of car journeys filled with song: we would use a view or a tree or a discussion to come up with a song such as "I'm singing in the rain", "Oh what a beautiful morning", "Run rabbit, run rabbit". It has to be said that my parents were born in 1917 and 1932 so their musical tastes were not the Beatles! I think I must be a late developer as it wasn't until I was 30 that I finally walked up the steps of the Royal College of Music to start my postgraduate opera course!
I mention this about my past to illustrate how far early childhood experiences can influence our adult lives, and in my case, singing with my enthusiastic but musically unskilled parents, ultimately led me to the Conservatoire.
To get back to my first 100 days...
I started my job with all sorts of plans: live classical music to be played by Roundabout tutors in class termly; concerts where the whole Conservatoire family from Early Years to Seniors comes together to put on a piece; re-writing some of the course content; taking Early Years Music out of the building…and whilst I may feel some frustration at my inability to move forward owing to the restraints put upon us by Covid, I have realised the following still hold true:
Our course material is based on the musical pedagogy of both Kodály and Dalcroze who taught that young children should experience music with their bodies and absorb musicianship through movement before seeking to learn an instrument. Kodály also believed that children should be immersed in music from conception!
Through a shared love of music making we strengthen the bond between carer and child; we aim to nurture and nourish both adults and children. As we count fingers, pat heads, find eyes and ears we are helping babies and toddlers with proprioception and co-ordination.
The voice is our first instrument and children's earliest experience of music is the crooning of their parents lulling them to sleep. In our classes we gradually encourage each child to find the confidence to hear their own voice whilst keeping group singing at the heart of what we teach.
We may never learn an orchestral instrument but the powerful experience of singing en masse, all with one voice and purpose is transformative.
The variety and breadth of training of the Early Years Music tutors is huge: our tutors are professional musicians both classical and folk, composers, actors, Early Years classroom teachers.
All of this amazing creativity allows the tutors to teach music theory in a way that is at once educational, extremely appealing and fun. Think Mr Tumble meets Evelyn Glennie!
We all love our jobs!
Back to all News