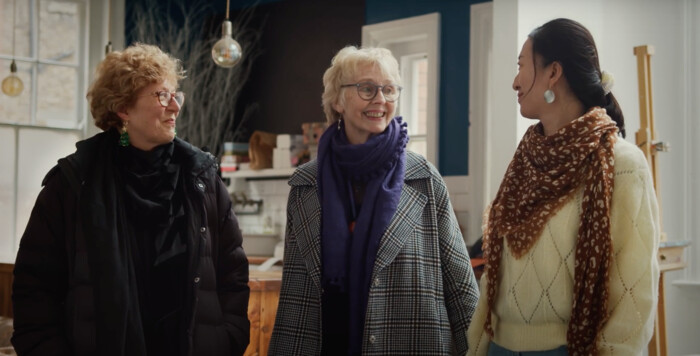 Hearing the Conservatoire Women's Choir singers talk about how much they enjoy their group, it's no surprise that it's one of the longest running in our history. Singing together can be liberating, cathartic, healing, fun... and hard to define with just words. Below you can see a short video of our choir members and tutor Noah Mosely talking about just that. There's also a longer version of the video below, so if you have some more time, scroll down!
Of course, all this great stuff doesn't only come from choirs. Singing and playing music, whether alone or in a group, can have huge positive impacts on our mental health and wellbeing.
What's holding you back? Tried and failed to learn an instrument or to sing? Got an instrument gathering dust in the corner? It's not too late. Get a teacher (at the Conservatoire), come in, and start from whatever level you're at.
Or maybe it's worse. You feel like you can't do it, you're not a singer or a musician. Well, you can be. If you can speak, you can sing. If you can type on a keyboard, you can play the piano. Can you make a 'brrrr' sound with your lips? All of woodwind is open to you. Can you hold on tight to something with both hands? Cello, guitar, violin, and the rest of the strings family awaits. Even tapping on your knees means you can play the drums if you choose. Luckily for you, we've also got a range of excellent tutors ready to teach you at a time that is convenient, from beginner to grades, for as long as you wish. Go to our Individual Tuition page to find out more and get started on your journey!
Or perhaps you'd rather join a group? Maybe you have a little one who would like to start learning an instrument, but isn't quite ready for solo lessons? You can find all of our group courses for kids and adults here - find one that's right for you, sign up, and we'll see you soon!
If you need any more encouragement on why art, music and drama are good for your health, check out our Why Study Here articles! There's a great one by Artistic Director Mairéad Sheerin on the benefits of singing. Here's a little extract;
When we sing, the neurochemical β-endorphin, a natural painkiller responsible for the 'high' experienced after intense exercise, is released. This, alongside dopamine and serotonin, leads directly to an improved mood. The stress hormone, cortisol, is reduced and the Immunoglobin A antibody is boosted – these factors lead to sustaining a healthy immune system. Just a bit more science – learning new songs is cognitively stimulating and helps the memory so can help those suffering dementia too.
There's also a lot of benefits to playing an instrument too, according to science. Here's an extract from another article, Benefits of learning a musical instrument.
Countless academic studies have examined the benefits to health and wellbeing that come along with participating in music, from helping children with severe emotional challenges to attend and thrive at school, to slowing and even reversing age and illness-related declines in mental functioning (University of St Andrews, 2013). Musical activity even at moderate levels can have a beneficial impact on brain function, so learning an instrument can have repercussions way beyond the practice room.
But before you go.... here's the longer version of the video above, featuring an enchanting version of 'Silent Night', which I think we can all agree, is a lovely song no matter what time of the year it is.
Back to all News