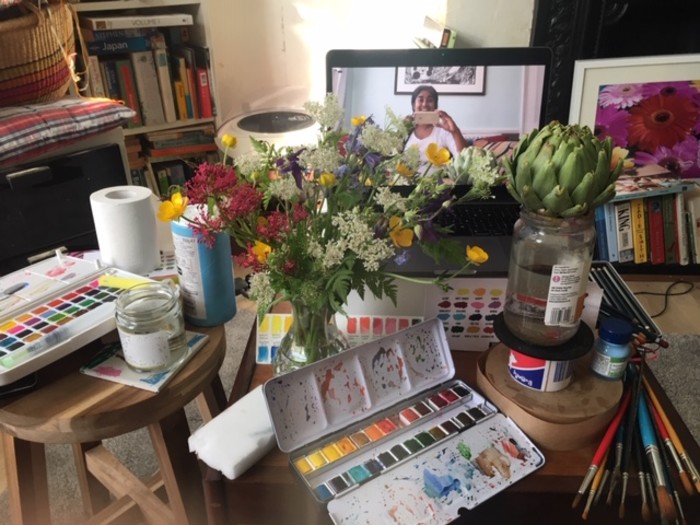 We're now into our third national lockdown and as we're all too aware, the effect on the arts and our mental health is profound. Yet, despite the challenges, the arts can provide practical and emotional sustenance.
Today we are launching our lockdown blog where four of our tutors; artists Victoria Rance and Salina Jane; musician, Elliott Morris; and actor and director, Henry Bauckham, keep a record of the challenges they are facing. We'll be addressing the isolation and reduced opportunities for artistic work, finding ingenious ways to help creativity flourish online, getting the best out of students in new ways, finding ways to re-examine individual practice, and the logistical problems and opportunities of exhibitions and live performance.

We hope you enjoy it.
A musician's practice diary - week 4 (11/02/21)
Elliott Morris - music tutor
When I was asked to contribute to The Conservatoire's Lockdown Diaries, the brief was quite loose – 'Tell us what you're up to – whatever that might be!'. I didn't feel like I was expected to write a load of new songs, which was just as well…because if I did, I'd have probably said no on the spot. THE PRESSURE! But these diary entries have actually acted as a motivator. Each week I've had in my head that I would be reflecting on my work, so that in turn would get me thinking about what I was actually doing. To put it simply; I was more present in my playing, and therefore more creative. I may have just been noodling at times, but it was as if there was a little tape recorder rolling in my head.. So…going forward, I'm going to try and keep a practice diary.
(Yeah…you know, like the ones I ask ALL my students to fill in at the end of lessons! Practice what you preach and all that eh?!)
As well as that metaphorical tape recorder, I've also documented lots of my ideas using the 21st century equivalent of a tape recorder – the 'voice notes' app on my phone. It's something I've been doing more and more recently, and I would recommend it highly. When we're songwriting with our instrument we're in the thick of it, doing the 'creating'. Sometimes our hands dictate chord shapes and changes. Sometimes our lung capacity dictates the length of each line. But at this point we're the performer, not the audience, and so we listen in that way. This is where a recording device comes in handy.
So it goes a little something like this…Noodle with an idea. Record it. Put the guitar away. Get on with things. A few hours later fire it back up. Now our ears are clean. Now we can hear…really hear…how it sounds.
To put it even simpler…Play. Step away. Revisit. (Repeat.)
Seems blindingly obvious and sooo simple to me when I write it down. But it's another thing remembering to do it when I'm banging my head against the wall (or vending machine, remember that?) But using this method, ideas I'd previously have spent hours on with my guitar have become clear with a single listen back. Try it!
So, what am I up to this week? Well, for a start I'm revisiting one of my old songs - an instrumental called The Pentre, from my 2019 album The Way Is Clear. I've rallied the troops who played on the album to re-record their parts at home, creating a 'Lockdown Sessions' version. The song feels like an old friend, and equally it's great to be back 'playing' with all the friends who contributed to the original too! I'm on a six string guitar again and I'm feeling nice and confident I can put a new spin to it.
I was also invited by Help Musicians UK and The Buddy Holly Foundation to be a part of The Songwriters' Garden – an online songwriting retreat led by Blackheath LEGEND Chris Difford – yes, him from Squeeze! It feels very fitting to be wrapping up such a creative and reflective month with this. Chris is a fantastic mentor and the other songwriters on the retreat are super inspiring. I've already written two new songs (in 24 hours!) and cannot wait to hear what new songs are waiting to be discovered tomorrow! I even reminded myself at one point today to do a little recording and step away for a while. I went and had a Mars bar.
Well folks, it's been a pleasure writing these for you. I hope they've been insightful, or at the very least, tolerable! You can keep up to date with all my goings on at www.elliottmorris.co.uk , and find me on social media too.
Thanks for reading, stay creative and have a harmonious 2021!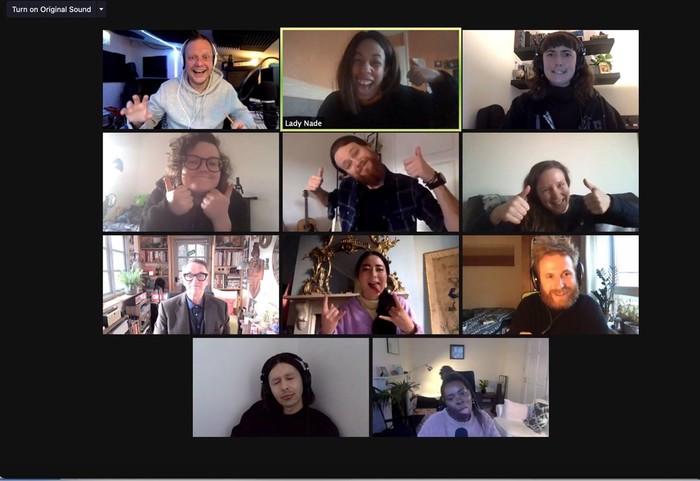 The Chris Difford Songwriting Retreat
Art for wellbeing (10/02/21)
Salina Jane, art tutor
"This lockdown feels harder", so many people have said this to me. At the end of last year I realised it was time to embrace chilled creativity. I started teaching more laid-back art classes, full of colour, calming patterns and shapes, exploring mark making and the joy of soothing repetition. What I didn't expect was that I would take so much of what I was teaching back into my own art practice and life.
This week I've been exploring Gond painting, something I've been fascinated with for a long time. Gond art is a traditional art form practiced by artists in the Gondi tribes of India, predominantly in Madhya Pradesh for 1400 years. It speaks to our connection with nature and features trees, animals and birds. These paintings would have adorned walls and floors of peoples' homes and it is believed to be good luck to have such bright vibrant colours and subjects to look at. My Gond painting has a very South London nature feel to it, having not yet seen the birds and trees of India.
The benefits of creativity to well-being are proven. But even without the science, I can tell from my personal experience and the smiles of my students at the end of a zoom session, work and home schooling now at the very back of their minds, that it really does work. You don't need to be a professional artist to benefit from this, even if you've not drawn since school, a pencil and paper can wipe away lockdown for an evening and bring real benefits. I for one, will definitely be creating more Gond art, I can feel the good luck rubbing off on me already.
Salina is teaching a short Children's Book Illustration course on Zoom from tomorrow and collage art during half term for adults. For more details click here. To enrol call 020 8852 0234 - lines are open Monday - Friday, 9am - 5pm.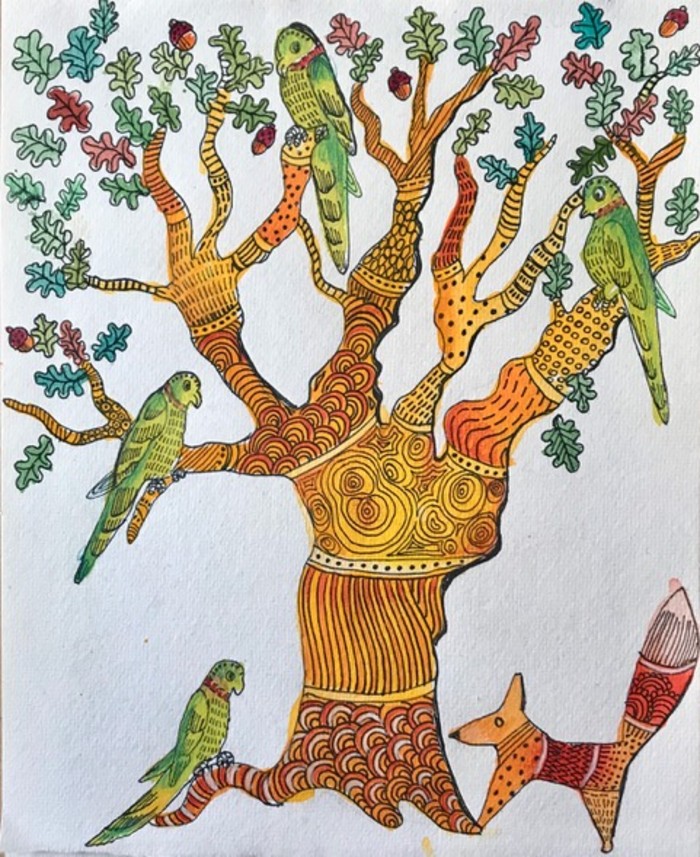 Photo: Salina's South London Gond Painting
Directing through lockdown - part 4 (09/02/21)
Henry Bauckham, drama tutor
Although I don't have a record of exactly when it was, I believe this year will mark 20 years since I first set foot in The Conservatoire, as a young lad aged 11. We began by performing sketches or short play adaptations to our parents in our Saturday morning classes. Later though, as I and a core group of other students who worked together for years grew up, we performed in such grand halls as the Drill Hall (now RADA Studios) and became a proper youth theatre.
Soon enough, our 'home ground' became The Bakehouse Theatre at Age Exchange, right here in Blackheath. (Yes, there is a theatre in Blackheath) I only performed there twice as a student, the last time being Uncle Vanya, which ran for five nights in July 2011. We were lucky enough to have some enormous set pieces designed and made by a trainee scenic artist, which the rest of the cast moved between acts while I played atmospheric piano from just outside the stage left door.
After a short gap (to train at drama school) I came back as a director, and have run over 30 productions down at The Bakehouse. I know everything about it; where the loose connections are, where the spare staging boards live, and which six of the stage lights are still working. It's not perfect, but at a capacity of around 50, and right here where we're based, it can't be beat. And anyway, it's home!
This, however, is one home we can't be at for the moment. It's funny to think about it now, but a few months I made a tentative booking with Age Exchange for this March! Of course, I quickly realised it wasn't going to be an option, so I cancelled and made a new plan.
The plan in question involves Shakespeare, outdoors, in the Summer. We'll be working for a term and half on some real classics, starting after half term in just a few weeks! So if you know a young person who would like to join us, please send them our way. Who knows whether it will all go ahead as we'd like it to - I can only hope that All's Well That Ends Well is more than just a title.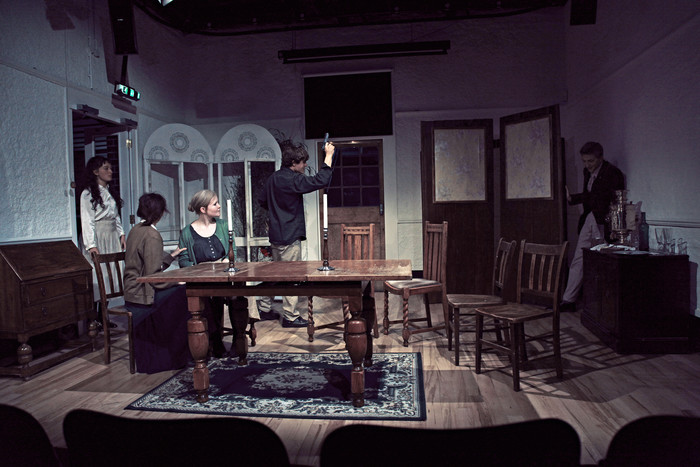 That's me in the middle there with the famous 'Chekhov's gun'. This must have been a practice run because you can see my fellow actor Adham on the right, laughing.
Getting things in perspective - week four (08/02/21)
Victoria Rance, art tutor
A big surprise, learning perspective can be fun and calming. This week in my How to Draw classes we have been learning some basic rules of perspective, doing two simple exercises and drawing a pile of books. In the past perspective classes have led to actual tears. Either I've got better at teaching it, or the crazy world we now inhabit has made learning and then applying basic unchanging rules in a drawing a deeply calming experience. Students have added their own embellishments to the simple room using one point perspective (a cool lampshade, a kitchen sink in front of a huge picture window) and a Lutyens type fire place to the house we draw for learning two point perspective. And the words 'zenith' and 'nadir' take on new emotional heights and depths.
At night I am reading Claudius the God by Robert Graves. I loved I Claudius when it was broadcast in the 1970s and as a child took inspiration from this unlikely hero and survivor of the reign of the evil Emperor Caligula. This sequel starts after his assassination, when Claudius is chosen to rule. He brings order back, saves many of those unfairly locked up, restores good laws and cancels bad ones. He does invade Britain and my sense of loyalty was mildly challenge but he did it with such ingenuity, with a view to saving life, using camels and elephants and even, after my own heart, a flying Heron King. He was a historian and his sense of perspective and use of wisdom from the past is inspiring.
In the other parts of my life, preparations for the solo show In Real Life ( https://cable-depot.com/Victoria-Rance-In-Real-Life ) are going well. The cards have just arrived so please note the dates and come if you can, either virtually or in real life. And I had a wonderful outdoor, safely distanced and masked meeting with Lydia Julien, a performance artist who will be joining me for a couple of events. We discussed her ideas and possible costume as we walked by the stormy river (we seem to go in for extreme weather together). She told me about Afro Futurism and how she might use it in the performance. We talked about embracing failure, and learning to be ready to make enormous changes at the last minute. And how the industrial estate in Woolwich has its own dark and magical corners, which I think we found on this freezing wet day.
This is the last blog, it's been a good way to reflect on life and how we are all coping, it will be a record of the challenges we have faced and helps with the sense that one day we will be looking back at 2020 and 2021 as though on a distant vanishing point.
Image: from animation The Fates 2020, card image for In Real Life.
A musician's practice diary - week 3 (04/02/21)
Elliott Morris - music tutor
Imagine, if you will, a vending machine. One of those old style-y ones with a clear front displaying lots of coiled wires that hold different chocolate bars. You pop your money in and make your selection. One of the coils twists and your chocolate bar drops out. Thunk.
Now picture a vending machine that only has one coil. The first few items on the coil are apples. Boring apples. Run of the mill, not even red and shiny but kind of pale green-y yellow. Yum. But you can see that there's a delicious MARS BAR (other brands are available) hiding behind them. This is what songwriting is like. You have to go through those initial ideas in order to get to the good stuff. The first few apples represent those difficult ideas that you're struggling with - the ones you're not even sure why you're persisting with. But you do so in the knowledge that there'll be a great idea lurking behind them. That's the Mars bar!
But guess what? As the Mars bar gets closer, you spot something behind it…a Wonka Bar!!! (NO other brands are available for this analogy – it must be a beautifully wrapped, irresistible, sparkling Wonka bar!). So you keep going. The coil turns again. It's within your grasp! And maybe, who knows, there could even be a golden ticket inside it! This is the inspiration that fuels that drive and desire to keep going. Keep soldiering on with the hard ideas, keep experimenting, keep exploring. Who knows what you'll find?
Sometimes this magical songwriting vending machine does that annoying thing where the chocolate doesn't drop, and you have to work that bit harder (maybe kick it a few times, though the warning stickers specifically say not to) in order to get it out. Sometimes the chocolate bar drops down but when you put your hand in the slot it isn't there. Or you have to feel around a bit until you eventually find it.
On the other hand, sometimes there's a particularly tasty looking chocolate bar, right at the front of the coil, ready to drop at any second. It just needs a little…encouragement. (Do be careful, folks!) But it takes very little effort whatsoever and you almost can't believe your luck!
But what would a 'golden ticket song' even be? Perhaps a chart-topping hit, or a composition that gets picked up to accompany the credits on the next Marvel film? I'm sure everybody's definition of this would be different. I guess for me it would simply be a song I'm particularly proud of. One that captures that raw, exciting feeling when it all comes together. When it just works. When you can hear in the song all that hard work. You can feel the time spent watching the coil turning. ALL THOSE APPLES! The bumps and bruises you got when the vending machine bashed you back as it was ricocheting off the wall. (They seriously should put alarms on those things)
Last week I finished my latest composition for the '12 string guitar project' (remember, that's 3 x 4-string guitars). It wasn't a hard piece to write, but it took some experimenting to get it just right. A few apples were consumed, but I'm pleased with the chocolatey result. After striking that final chord, I was left in that void of wondering what to work on next. So I went back to the vending machine. I noodled for a bit (noodles in a vending machine?) I could see an almost-fully formed idea, just sitting there…ready to be discovered. And it was mine! I've got a golden ticket! Maybe.
So folks, you'll never know what great ideas are out there if you don't keep powering on to find them. In short, don't forget to eat your apples.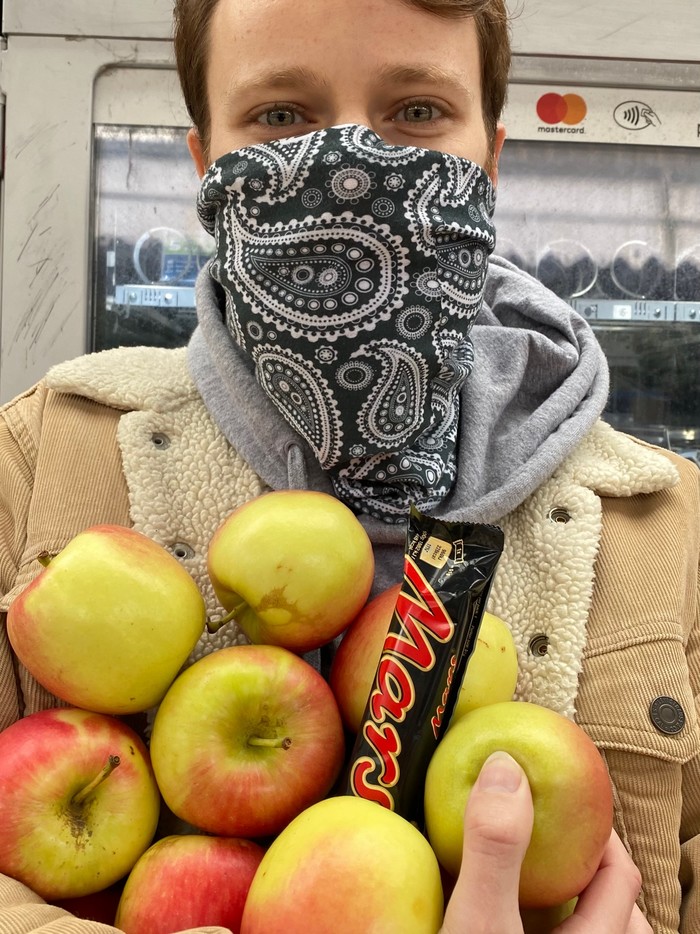 My personal practice (03/02/21)
Salina Jane, art tutor
If you've attended my Conservatoire classes you will know me as an illustrator, but I trained as a fine art print maker and this is reflected in my personal practice. I make art that explores my cultural background as a way to get to know my family history and culture. My family are Indo-Caribbean, both my parents are from Guyana and my great great grandparents were from India. They went to British Guiana in the 1800's as Indentured labourers, working sugar plantations after the British slave trade ended. My family then came to London as part of the Windrush generation in the 1950's. My art explores this journey in a personal and wider historical and cultural perspective.
Lockdown has definitely curtailed this aspect of my personal practice. I had been due to go to Canada to connect with older, never-met-before family. I was booked for festivals, exhibtions and projects which were cancelled and without these deadlines, the impetus to create that work left me. I showed my art at an event on indentured journeys at Greenwich Maritime Museum before lockdown, and haven't been able to follow through on the connections made. Instead I focused my lockdown time on teaching in a different way and learning the skills to create inspring online programs for students.
But opportunites are there; I was approached for inclusion in a coffee table artists book of South Asian diaspora artists which comes out this month, this encourages me to make more. And this week I signed up to a new studio space in Croydon which I will dedicate to this work. Despite lockdown my daily art practice has continued and I have created art exploring how I personally fit into this narrative. I am sure I am not alone in saying the last year has been a time for self reflection and I hope this shows in my art.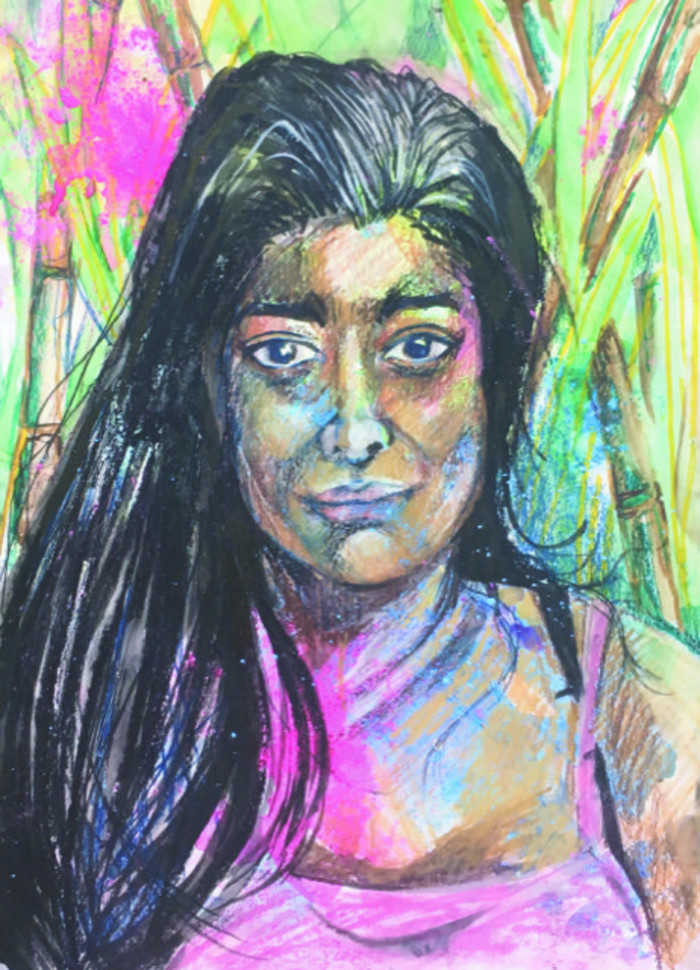 'Sugar Cane brought me here' – Mixed media on paper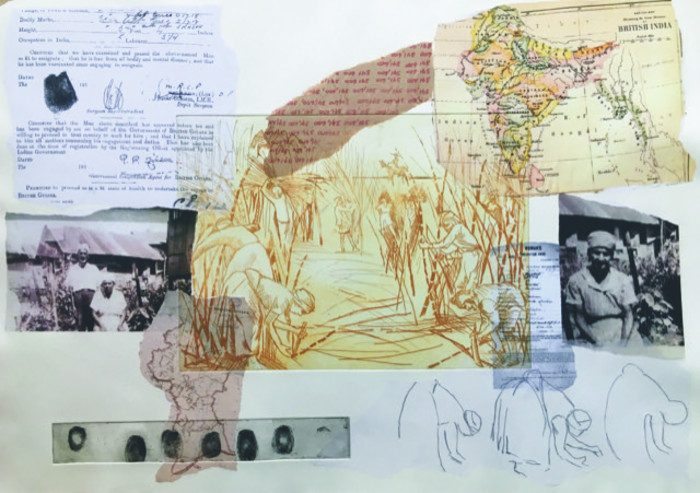 'Indentured journeys' – Etching and chine colle
Directing through lockdown - part 3 (02/02/21)
Henry Bauckham, drama tutor
As we approach the anniversary of our first lockdown, I remember how quickly the first one came in, and how different it was in so many ways. The theatre industry has arguably been one of the worst hit, but back in March 2020, many artists immediately scrambled to make or share work in whatever way they could. Re-broadcast theatre shows, play readings over Zoom, concerts on YouTube, there was no shortage of culture to get stuck into.
However, I personally found it very hard to engage with any of it for months after it began - something about the extent to which it felt like the world was falling apart left me only able to deal with fluffy, easy TV (including the absolutely brilliant and non-fluffy Staged on BBC). Usually an avid theatregoer, I didn't end up watching a play (online) until August - it was too much.
A year on, everyone's calmed down a bit with the online stuff, and we're all a bit more familiar with what we're dealing with this time. I've managed to re-engage with all the cultural events I loved, and even begun to think about future projects of my own.
One of these is Her Father's Voice, a play I co-wrote with former Conservatoire tutor Hannah Ely, who is part of the sublime vocal ensemble Fieri Consort. It charts the life of Barbara Strozzi (born 1619), one of the criminally few female composers from that time whose work survives. Her struggles as a female creative are a stark reminder of not only how far we've come but, importantly, how far we still have to go to achieve equality. In lieu of being able to tour the play as we'd hoped, we're currently in the process of applying for funding to make a remotely recorded radio version, complete with Fieri's transcendent recordings of compositions by Strozzi and her contemporaries.
It may only be the first toe dipped in to creative waters (outside my work with BYT), but it feels good to get going again - and to feel, optimistically, that this is just the beginning.
I highly recommend having a listen to Fieri Consort - you can hear them on Spotify and find out more about them on their website.
Do have a look at the trailer below, if only to see me dressed in a delightful green velvet costume.
An artist's life in lockdown - week three (01/02/21)
Victoria Rance, art tutor
This hasn't been the easiest of weeks... so many demands, good things and bad things. My youngest son, who finishes school this year, is taking after his parents and obsessively making art, in his case short films. The current project is shot at home, and in isolated spots locally. I've helped do some of those shoots and spent two hours in the cold but beautiful Oxleas Woods with him, and am particularly happy with the framing of this one.
As part of this cultural exchange he is writing music for one of my short animations, River Mercury, which will be included my fast approaching solo show In Real Life (https://cable-depot.com/Victoria-Rance-In-Real-Life.) We have made progress there, decided on dates for real or virtual openings and even sent the card off to be printed in Germany. So it's fixed. Imagining the lockdown will continue we are making the first event on March 21st virtual, like a TV show, the second event on April 4th will be performances in the space, either accessible on the ground or online, and the third, hoping against hope, will be the public finissage, just as the show ends on May 14th. Surely we will be able to do that? I had DV or God willing included on the card at first, but we took it off, just hoping it instead.
In other lockdown complications, my husband who is a landscape painter, working strictly au plein air, was questioned by two police officers as he painted the river from the Thames foreshore, well away from other people. He explained it was his job, and was horrified when one of the policemen kindly suggested he work at home from photographs instead.
Teaching however is going well, and as Salina said, it's such a blessing to sit and draw alongside students quietly. It doesn't feel in the least bit like being at a computer. We can see each other's heads down focusing on doing the same as us. Some of us mute, some keep the mic on and it's comforting and companionable to hear in the background children, cups of tea being made, dogs and cats demanding attention. Simon, our life model this week, asked us not to all mute as he likes the sound and he kept his glasses on in one of the poses. His head was turned sideways towards another computer screen. "What are you watching?" I asked. "You all, drawing me" he said.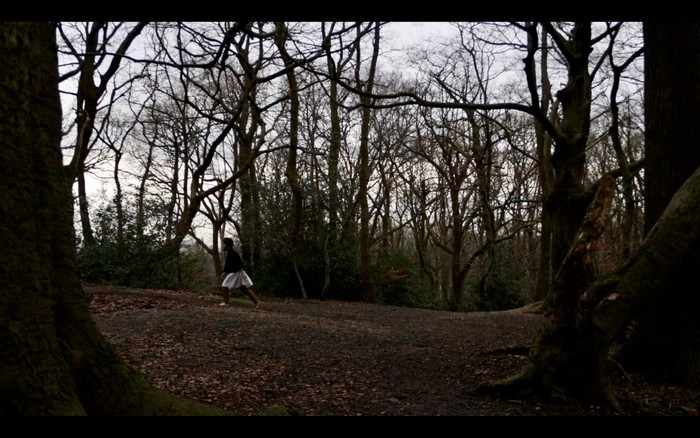 Filmmaking in Oxleas Woods.
A musician's practice diary - week 2 (28/01/21)
Elliott Morris - music tutor
Ok, so I might have been a little misleading in my last diary entry. It's not that I wasn't playing the ukulele last week…my uke was in fact acting as an understudy for another instrument. My tenor guitar.
What is a tenor guitar I hear you ask? No, it's not a guitar that's only worth a tenner (very funny), but actually a smaller-bodied, four-string guitar. It's basically what happens when you water a ukulele…I'm here all day folks. I wanted to practice a few tenor guitar ideas, but unfortunately didn't have my tenor guitar to hand (more on that later) so I tuned my ukulele in the same way as I'd tune a tenor.
The tenor guitar basically fills the gap between the standard six-string acoustic guitar and the four-string banjo, or the fiddle. It allows fiddle players to sound like guitarists, and banjo players to sound like respectable members of society. Everyone wants to be a guitarist after all.
I've owned a tenor guitar for ten-or-so years. My reasoning behind getting one was not because I wanted to sound a bit like, but not too similar to, a banjoist (or banjoer? Ban-jovi? (Now THAT's a tribute band idea – the music of Bon Jovi reimagined for the banjo – oh my!)), but because I was captivated by the sound. They really resonated with me (come on!) - I loved how simple and yet versatile they seemed. They were great for picking out melodies but also really well suited for playing chords and accompanying the voice.
So I saved up and got myself one and it toured with me (alongside it's bigger sibling of a 'normal' six string guitar) for a few years. But when I moved into my first London flat, no matter how small the tenor guitar was, it was still too big to justify moving in with me. So I left it at my folks' place and moved into my…well I guess you could call it a 'tenor flat'.
Every October for a good few years I played up at Ullapool Guitar Festival in the Scottish highlands. It was there I met Innes Watson, and later Mike Vass, two incredible multi-instrumentalists. Though both are fiddle players originally, they're sickeningly good guitarists and tenor guitarists too. I've learned a lot from those two. Though we've played together on stage and in the studio a number of times, we've never worked on a collaborative project. In 2021 we plan to rectify that. We've often joked of starting a trio where we all play tenor guitars. You've guessed it…The Three Tenors. Well, with a name like that, you gotta, right? (Well, you gotta change it for a start – suggestions welcome!) And what better time than in the middle of yet another lockdown than to make that joke a reality!
Recently my brother has been 'looking after' my tenor guitar. He's a bass player and therefore wanted to try his hand(s) at the tenor too. Perhaps bassists can't count higher than four? Anyway, I don't live in that small flat anymore, so could justify allowing another guitar into my home/life. So last week I scheduled a rescue mission/Hermes delivery, and it has now replaced the ukulele. I did love playing the uke, but need something with a few more frets and a bit more space. I've already written a number of tenor tunes and am in the process of notating them, before sending them onwards to the other guys. I've also learned a new tune composed by Innes, which is an absolute cracker.
I'm not sure where Innes and Mike see this project going, but for me it's just about making music with two pals…even if it is remotely. We may not be able to get together and play live anytime soon, but I feel really inspired and enthused at the prospect of there being some new music on the horizon. Watch this space!

Lockdown Art (27/01/21)
Salina Jane, art tutor
The last year has seen a new category to my art work, one which I call 'Lockdown Art'. I have never produced so many sketchbooks in one year, not even in art school. They are full of drawings of me and Luke and our house and the Shouty cat. I even resorted to using myself as a life model in the absence of life drawing sessions. I made large charcoal drawings of my naked body, something I've never done before which felt interesting and odd and also kind of freeing, especially having hit a rather significant birthday in 2020. I took lines for walks around my house, drawing Luke at work and the cat in his many sleeping spots, I opened cupboards drawing their contents, drew the views from my windows and sat on the doorstep of my house and made collages of my street and through the backdoor of my garden. It's been fun to explore my world in this way and these sketchbooks will be an interesting diary of this time. But having explored all the nooks and crannies, I also now feel really ready and my pencils are itching, to go outside and draw the rest of the world.
Salina will be teaching collage workshops for adults online during February half term. Find details here.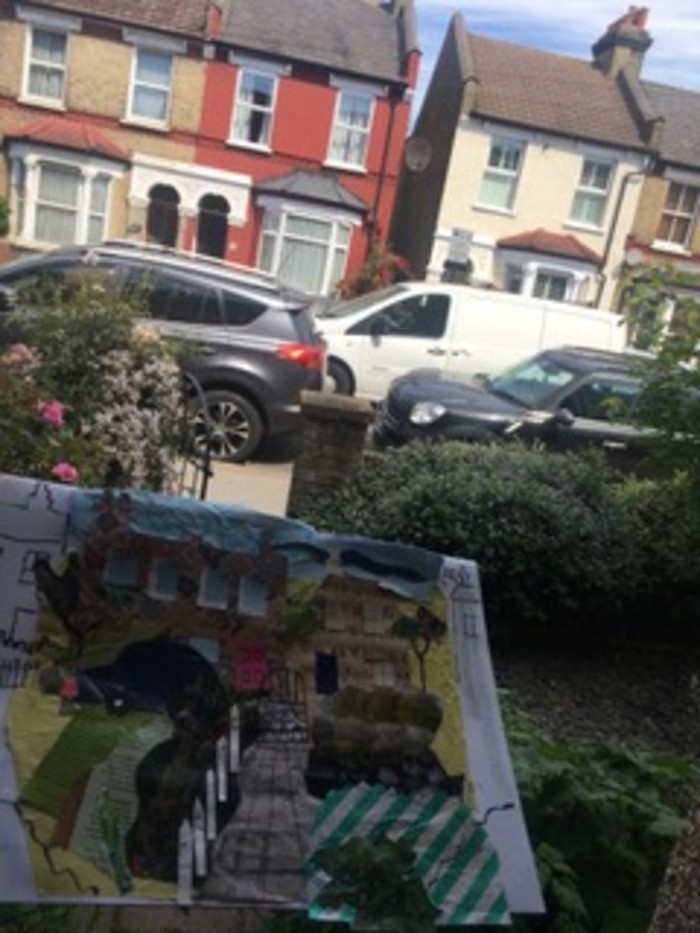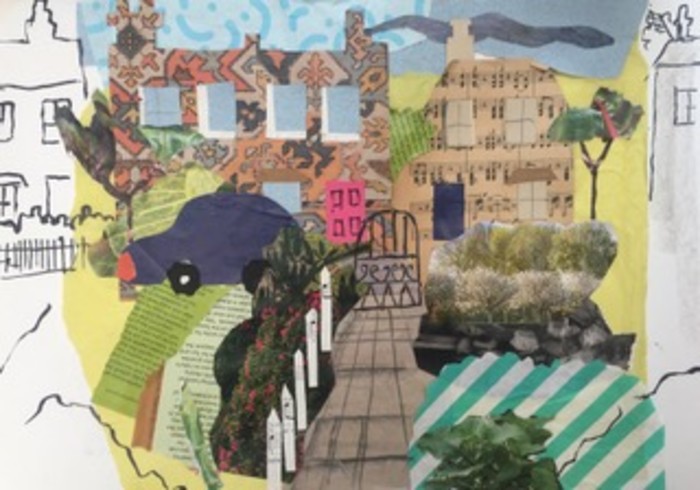 Directing through lockdown - part 2 (26/01/21)
Henry Bauckham, drama tutor
"I went for sort of 'Horrible-North-London-bedsit'. Is that about right?"
This is what Mark, our Premises Manager said to me as he presented the set for our latest Blackheath Youth Theatre production in December. Not daring to even think about getting an audience in, we had always planned to film this one, and so had hired some lights and set up in our big Art Studio.
"Wow, it's great, thank you!" I said. Mark's a 'do-er', so had very kindly got this all set up for me before I even arrived. This left me time to set up the camera (my old iPhone) and the sound (two microphones from the loft attached to my laptop). This term's project was Game by Mike Bartlett, a very dark play set in a sort of Orwellian future. We'd staged it so that the actors would be two metres apart, props would be wiped down between handlings and everyone would wear masks when not filming. Ready to go.
And so we began, on a Friday evening in December. The cast put in some cracking performances, and filming it without an audience in a big, cold, mostly-dark room only added to the bleak atmosphere of the play. We finished on schedule, in the knowledge that we had the following day and Monday to finish off and do any retakes we fancied. Brilliant.
The next day, a Saturday, we reconvened to continue filming. Also that afternoon, came the announcement that London was going in to Tier 4. I made the call; the students went home, I packed up the props and took down the set, and that was it. Game over.
The arts that rely on live performance have perhaps been the worst hit by the pandemic - anyone I know who has had a part in organising or taking part in events have repeatedly found themselves hitting a brick wall of changing circumstances and postponing again. But we will be back, and I hope you will join us to celebrate that day, when it comes. More on that next week.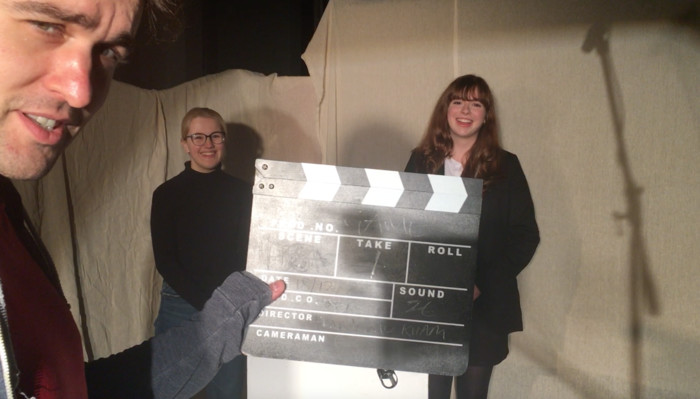 In my defence here, there is two very bright lights shining directly in to my eyes. Also I went for one with the cast smiling at the expense of my looking ridiculous. Nice, eh?
An artist's life in lockdown - week two (25/01/21)
Victoria Rance, art tutor
Today I went to look again and measure the height of the walls in the gallery space for my show at Cable Depot. It is opposite the huge studio complex Thamesside Studios in Woolwich, by the Thames Barrier. I know the area well as aside from knowing several artists there I was in a group show Good and Bad Government in 2018 in their gallery.
Before I left this morning I was glad to see a review in FAD Magazine of Cale Depot's current show BREAKING. The review particularly discussed the technology used to keep the show virtually open despite no visitors and lockdown.
Cable Depot's curator Iavor Lubimirov has embraced the challenge of putting his shows online 24/7. The artist following me in June will be Jesús Jimenéz, an artist from Mexico, and the show will go ahead regardless of the pandemic. Iavor said to me today: "When you're online you're in the world, and you're still local. Being local isn't being replaced, it's being extended. Isn't it great that you can be in Mexico and show here?"
My show, In Real Life, will involve four films, one on each wall projected low and small so that they interact with sculptures in front of them and play with scale. We will use low wattage LED projectors that can be left running with little environmental impact, and reach an audience all over the world even during lockdown via 360 degree cameras. As with my online teaching for the Conservatoire, where I have taught students hundreds of miles away from Blackheath, we are embracing both the sense of the local and the expansion of our community.
Tonight I will have a zoom meeting with sound artists Blanc Sceol who will perform during the time the show is on, and as with everything right now, dates and times and reaching an audience will be up for discussion and addressed by us all as creatively as possible.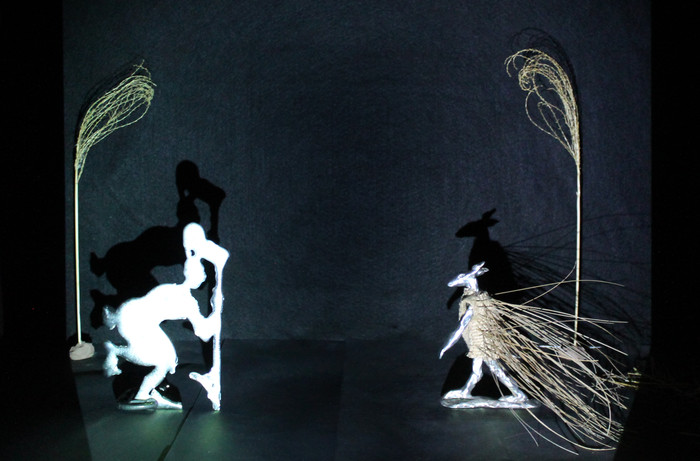 A musician's practice diary (21/01/21)
Elliott Morris - music tutor
A new year always feels like a blank canvas. In previous years I've spent January in the studio surrounded by friends, or out on the road playing every night. I love the feeling of hitting the ground running, with a whole year of possibilities ahead. This year kicks off somewhat differently and it's hard to know what to start working on, or what I'm aiming for. But I have some ideas…
I know from conversations with creative friends that many have struggled to find inspiration recently. I've always composed with the view of performing. I would be able to finish a piece in the knowledge there'd be a show just around the corner to try it out at. That would be my motivator. With the absence of live performances, along with of course the global pandemic and all that doom and gloom, I too was feeling a little uninspired. Or so I thought.
It wasn't that I wasn't playing. I was picking up the guitar more than ever, I just wasn't writing. I was playing simply for fun and for a bit of distraction, with no end-goal in sight. If, for example, I woke up (dis-mownin') wanting to play the blues, I'd play the blues (duh-duh-duh-duh-duh). If I needed to rock out a bit, I'd turn my amp up and annoy my neighbours. If I wanted to remind myself of what standing in a muddy field at a folk festival felt like, I'd play something traditional (and put on my walking boots). I wasn't stuck with the worry of 'does this sound like me' because nobody other than me was hearing it (apart from perhaps those aforementioned neighbours, sorry guys). I wasn't thinking 'will this piece fit alongside my other songs' because I wasn't thinking about the other songs. I was spending time in the moment with those new sounds, doing it for the sake of doing it. Sometimes it was noise and sometimes it was melodic. But it all helped me through 2020 and kept me connected to my art form.
Now I'm realising that it wasn't simply aimless messing around due to a lack of inspiration. It was in fact an unconscious endeavour to discover new ideas. I was wandering up and down the fretboard, discovering new sonic avenues that I previously had no idea existed. Exploring – for fun, yes – but because I sensed there was somewhere I needed to go.
Though it initially felt hard to know what to begin working on this year, I'm now realising that I actually started the 'work' a long time ago. I feel I've grown a lot as a musician over the last year. I've grown into those new sounds, and those sounds do actually sound like me. They are me! I just didn't know it at first. Well this all starting to sound very serious. So how better to kick off 2021…than with a baby blue ukulele?!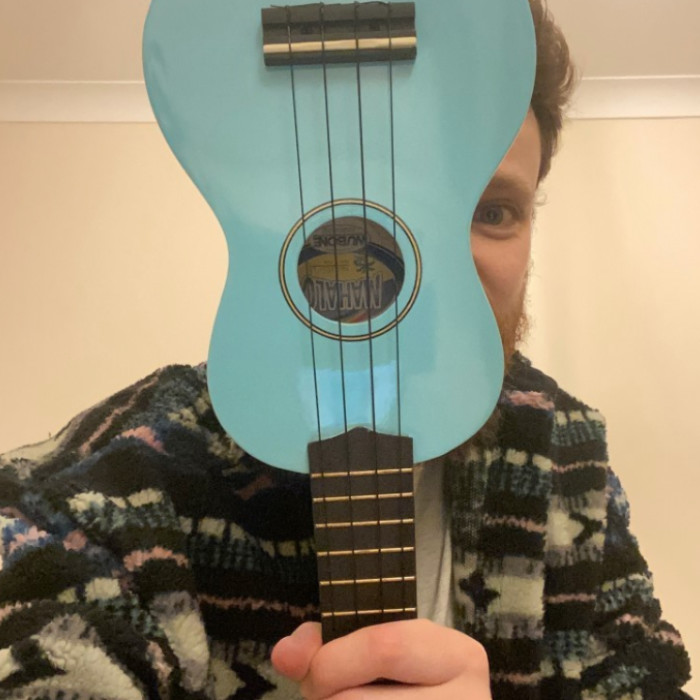 Living On Zoom (20/01/21)
Salina Jane, art tutor
This week I delivered 18 online workshops! I am living on Zoom.
I've lost track of the number of online workshops I've delivered since April or the number of students I've taught. I've spent more time with students than I have friends and family, and people I previously saw once a week, have now become firm friends.
I've taught energetic 6 -12 year olds eager to share, parents joining in the classes; teens who focus intently on their own work without talking at all; and adults, bound to the same desk all day, craving the opportunity to be creative and chat. I've covered a wide range of subjects and mediums and had to be more imaginative than ever in terms of my teaching practice.
A big difference is the amount of art I have done and the variety of it. I wouldn't normally draw or create along with my students in the studio, perhaps I might have done a short demo to show techniques or mediums. But on Zoom I'm drawing along with my students. For me it means I've drawn subjects and styles I wouldn't normally even think of, which has been great fun and I have made a lot of art!
A benefit of online classes throughout this time has been the social aspect. Its really nice to spend evenings drawing with others with a glass of wine from our own homes, it creates a certain intimacy and encourages some lovely warm, open chats. And without needing to commute I've even found time to attend a few online life drawing sessions for myself. Salina teaches Illustrated Maps online on Thursday evenings with the Conservatoire, come join the fun and don't forget that glass of wine!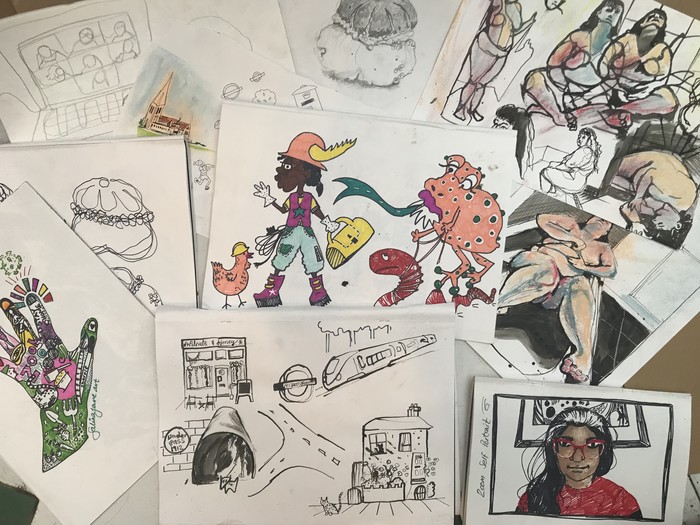 Directing through lockdown (19/01/21)
Henry Bauckham, drama tutor
"Keep going over your lines, try to remember all the work we've done so far, and as soon as we can go back inside a theatre, we'll do it. Hopefully August, before some of you go to uni!"
That was the last chat I had with Blackheath Youth Theatre students in March 2020, as the first lockdown kicked off and our productions were cancelled. They'd been due to perform a double bill of plays by the brilliant Shelagh Stephenson the following week, with technical rehearsal only days away. I'd bought the props, programmed the music and sound effects, and actually been very impressed with myself being more prepared than usual, where the end of term seems to rush headfirst around the corner at half term. No late nights of prep this time though - I was ready!
Of course, none of it happened. Those two lovely plays have been put on indefinite hiatus, and 'down to experience', which hurts all the more for teenagers. I was, however, dazzled by my students' enthusiasm and dedication to the radio plays we started only weeks later. The hours we spent together every Saturday recording in isolation were wonderful, with these brilliant young people becoming a light of comfort and inspiration to each other, and me!
We're back in lockdown, so there's more radio plays to come. But last year's recordings are still available on our website, at www.conservatoire.org.uk/byt/radio - all in 20-30 minute episodes ready to download. Why not have a listen?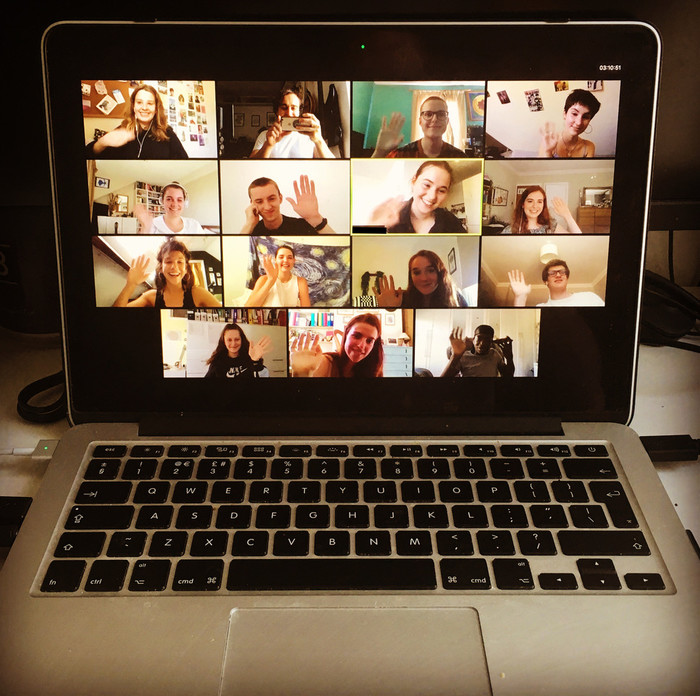 An artist's life in lockdown (18/01/21)
Victoria Rance, art tutor
The distractions are many... teaching from home means I'm here more, and so is my son, a filmmaker in the making whose bedroom is now his studio. To get away from it all (being props, camera woman and wardrobe) I have to go to my studio at APT in Deptford on the Creek. I cycle down from where I live near Blackheath Standard on my wonderful electric bike, which means I can safely socially distance all the way. I have a solo show coming up, In Real Life at Cable Depot, and that's my new focus, having just taken down my last mini solo show in The Small House Gallery, a dolls house in South London, (https://smallhousegallery.uk/2020/12/16/victoria-rances-mini-solo-exhibition-inhabit/) which was perfect for a lockdown show only accessed online, where scale is immaterial.
I have a solo show coming up, In Real Life at Cable Depot Woolwich (https://cable-depot.com/Home) which, God and Covid19 willing, opens in mid March. So to prepare for it I confront the mess in my studio. I need to put away a big wooden sculpture, The Night Horse (http://victoriarance.blogspot.com/p/the-night-horse-and-holy-baboon.html) and that means a clear wall, and that means rehousing all my new small pewter work, and that means a new shelf. In fact the shelves I used were not new at all, I inherited them when I moved into studios at 52 Acre Lane Brixton where I worked from 1986-1996. As I painted the shelves white, memories came back of my neighbours there, the leaking skylights, and the work which had inhabited the shelves back then, mostly made from welded iron and steel salvaged from the Thames foreshore. It was dark, heavy and solid work, and although the subject matter was similar, my new work is bright, light and shiny.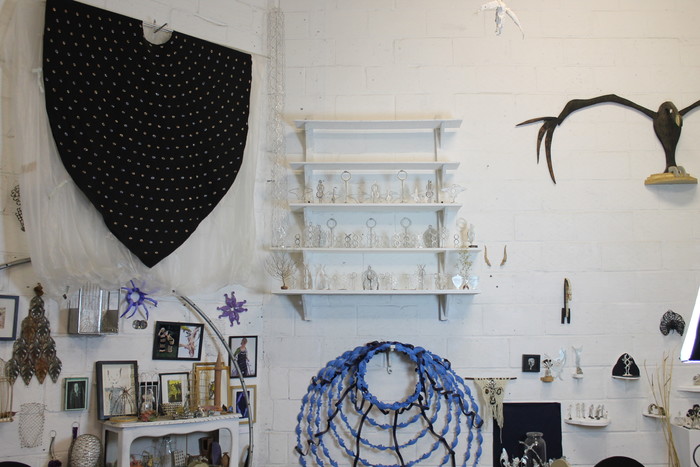 Back to all News